.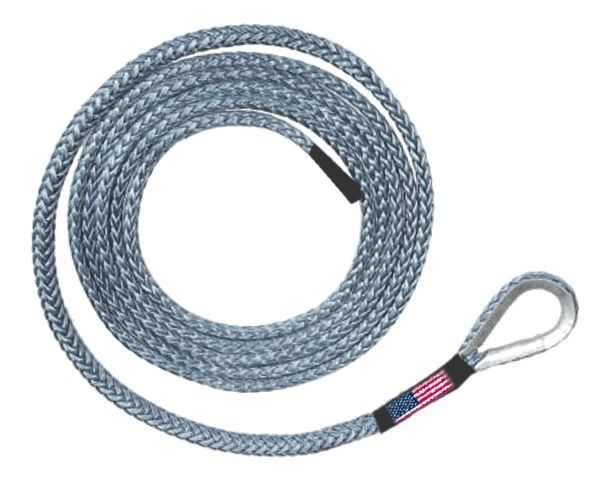 (click image for large view)
Original AMB Blue color.

UV protection coated.

Lock-stitched splicing.

We recommend our aluminum Hawse fairlead, specifically designed for synthetic rope use.(See Below)

AmSteel Blue is the latest development of HMPE fiber in a twelve-strand braided rope utilizing Parallay design with proprietary blue urethane coating.
.
Amsteel Blue ATV Snow Plow Lift Rope
---
Temporarily replace your winch rope or cable for snow plow season, saves wear and tear on your winch line.

U.S. Made Amsteel Blue synthetic fiber rope has a higher breaking strength than that of steel cable of the same diameter, but weighs less than 1/6. It won't get all wound-up like cable, and can't develop sharp frays. It doesn't conduct electricity or heat, so it won't freeze your hands in winter. It won't rust, doesn't kink, doesn't recoil, doesn't stretch, or doesn't store energy. Need we say more!

We strongly recommend upgrading to a billet aluminum Hawse fairlead to prevent damage from a scuffed roller fairlead. See Hawse fairlead below.
.


(click image for large view)
---
Heavy-duty rope thimble.

Note: Our ropes are professionally spliced.



1/4" Diameter
9,200 lb strength


Note: Compare to 1/4" wire cable at 7,000 lb strength.
.
.
.