The MaxAx Safety Impact Wrench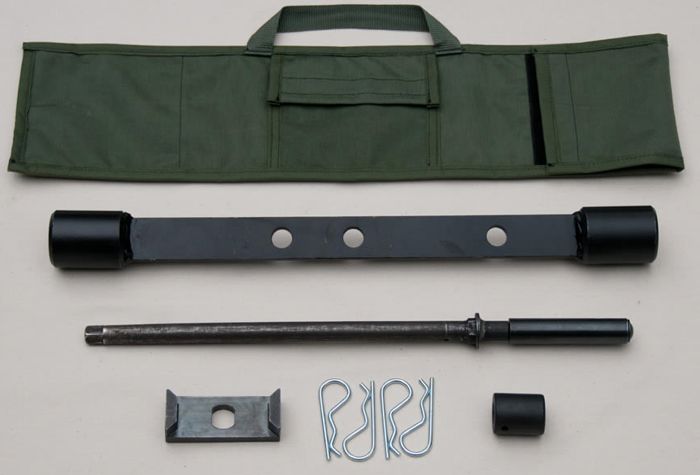 (click images for large view)



The MaxAx Safety Impact Wrench is a non-powered lug wrench that allows anyone to quickly remove or tighten lug nuts in the field without compromising power, safety or portability. Functionally, the Safety Impact Wrench acts as a hybrid between a standard L- or cross-shaped lug wrench and pneumatic impact wrench. Utilizing leverage and momentum to create additional force, the Safety Impact Wrench has been tested to apply over 250lbs of torque to a standard tire lug nut, proving more than capable of cracking even the toughest lug nuts on heavy trucks and off-road vehicles. The Safety Impact Wrench weighs 11 lbs and is made of the finest alloy steel. Each unit comes with a sturdy 1000 denier Cordura carrying case, and in storage mode measures a compact 22" x 5" x 2".

Engineered and manufactured to top industry standards for strength and reliability, the Safety Impact Wrench™ allows anybody to quickly unlock nuts from vehicles without compromising safety. It tightens and loosens with the same effectiveness. And the tool is so portable, it slips behind the seat, ready to go when you need it most.

A flat can happen any place, even out in the field when a power wrench isn't an option. The Safety Impact Wrench™ quickly and safely removes lug nuts from light and medium vehicles using leverage and torque rather than an external power supply. The process is almost as fast as using any power-impact wrench.

No wonder the Safety Impact Wrench is fast becoming the portable tool of choice for demanding environments!



Finest alloy steel.


Rugged Cordura gear bag.


Stored measures 22" x 5" x 2".


Quick assembly and disassembly.


Weighs only 11 pounds.


Tested to apply over 250lbs of torque.


U.S. Made.

U.S. SHIPMENTS (lower 48)
$149.99

The head of the MaxAx is a small, sharp axe head made of tempered steel. Together with the polyglass handle, this is a lightweight, very portable tool (12.5 lbs). It is much lighter than your standard garage axe, but feels solid and substantial enough to get the job done. On the back edge of the head is a small bracket. This is used to connect any of the several accessories included with the MaxAx:
Shovel, McLeod rake/hoe, pick, broad pick, and mattock. All these accessories are stored in a very sturdy cordura nylon bag. The bag has a separate pocket for each accessory, closes with velcro, and has a comfortable handle. The attachments connect securely to the head of the MaxAx with cotter-type pins or an adjustable shim (all included). A protective leather cover is included for the axe head to protect the head (and your head too). When using any accessory, just slip on the cover and buckle it.
It is easy to store and easy to use. This tool will come in handy many, many times. It should be a basic part of every 4x4 tool set, right along with your Hi-Lift.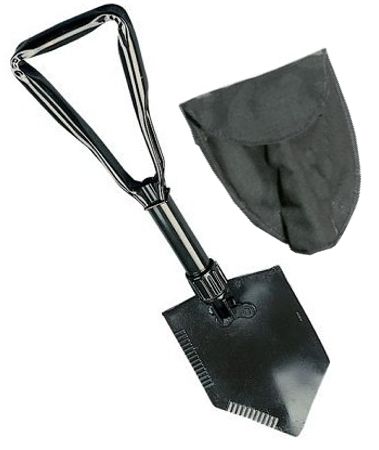 Survival Shovels
Don't go without! A shovel may make all the difference. Stores easily. Two sizes available.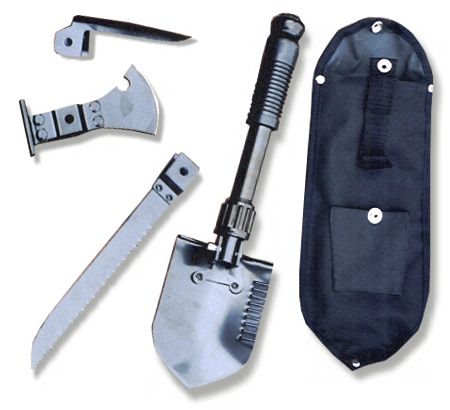 Mini Axe Set
Of heavy steel contruction, this five in one tool, is a highly useful go-anywhere easy-to-handle mini axe-set.
Disclaimer. Please read: The effectiveness of this equipment is directly related to the manner in which it is installed, used (for off-road use only), and/or maintained. Proper installation, use and maintenance is solely the responsibility of the installer/user, and will not be assumed by Billet4X4.com.