(click images for large view)
Safe-T-Line® MEGA-Duty Soft Shackles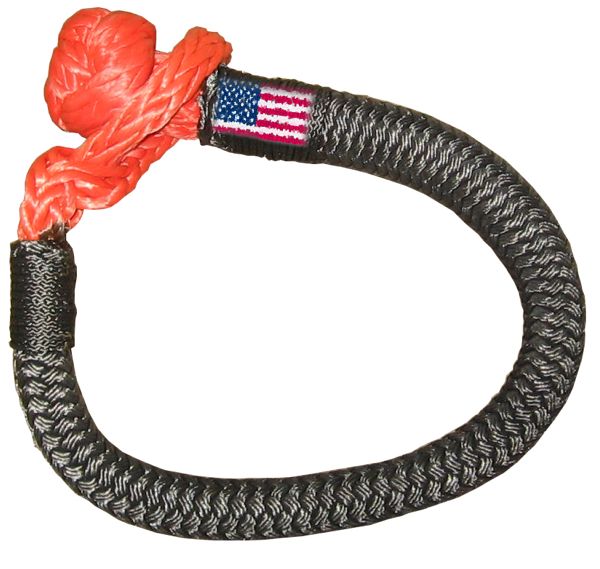 Following the success of our Safe-T-Line® Xtreme-Duty Soft Shackles we present our new and improved MEGA-Duty Soft Shackles available in a variety of strengths. A soft shackle can be used in situations where a standard D-ring shackle won't work - around rollbars, or tubular bumpers, etc.

We recommend having a pair of both soft shackles and a pair of quality D-ring shackles when venturing offroad.



UHMPE 12-strand synthetic fiber rope.


Sizes: 5/16", 3/8", 7/16", 1/2".


Sold in pairs or singles.


See MBS (minimum breaking strength) listing.


Urethane coated for protection from UV, for longevity & abrasion resistance.


Braided polyester jacket with PolyGuard coating for extra abrasion resistance.


U.S. Product, U.S. Made.

Safe-T-Line® synthetic fiber rope is the latest development of UHMPE fiber in a twelve-strand braided rope utilizing Parallay design with proprietary urethane coating. Synthetic winch rope was introduced to the off-road vehicle markets in the 1990's. It rapidly became a must-have accessory for both hard-core rockcrawlers and off-road enthusiasts. Soft Shackles are the latest application for this versatile mega-strong fiber.



1/2" Shackle
70,000 lb MBS
32" long
12" inside bow width




7/16" Shackle
56,000 lb MBS
28" long
11" inside bow width




3/8" Shackle
47,000 lb MBS
25" long
9" inside bow width




5/16" Shackle
32,000 lb MBS
23" long
8" inside bow width



U.S. SHIPMENTS (CONTINENTAL U.S.)




BEWARE OF IMPORTS!
Imported winchrope is not tested in the same individual manner that our U.S. made winchrope is subjected to. It may cost less, but you get what you pay for!



Customer Service Tip


Soft shackles are made from UHMPE synthetic fiber rope. Although our soft shackles have good abrasion resistance, nevertheless care should be taken not to use soft shackles on recovery points with any rough edges that may cut or abrade the rope.


4x4 D-Ring Shackles
Our screw pin anchor shackles meet the high performance requirements of Federal Specification. U.S. and import - all sizes.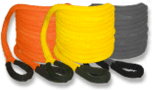 PolyGuard Kinetic Ropes
Now with our exclusive abrasion resistant 'PolyGuard' coating, our kinetic recovery ropes are probably the most technically advanced extraction/recovery tools in the off-road world.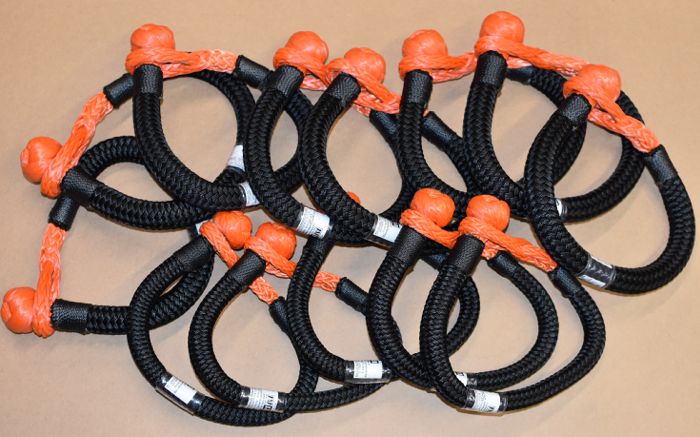 Disclaimer. Please read: The effectiveness of this equipment is directly related to the manner in which it is installed, used (for off-road use only), and/or maintained. Proper installation, use and maintenance is solely the responsibility of the installer/user, and will not be assumed by Billet4X4.com.