.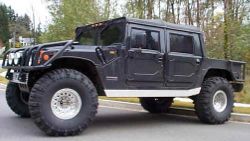 (click image for large view)



H1 Amsteel Blue Winch Rope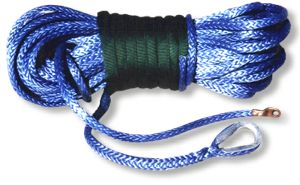 (click image for large view)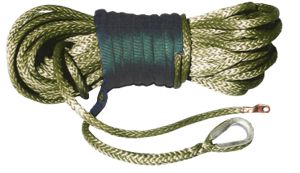 U.S. Made Amsteel Blue synthetic fiber rope has a higher breaking strength than that of steel cable of the same diameter, but weighs less than 1/6. It won't get all wound-up like cable when unspooled. It can't develop sharp frays, and it doesn't conduct electricity or heat (won't freeze your hands in winter). It won't rust, doesn't kink, doesn't recoil, doesn't stretch, or doesn't store energy. Need we say more!



Sized for Hummer and Humvee.


Also available in OD military Green.


UV protection coated.


Lock-stitched splicing.


10' abrasion guard included.
The guard is flexible and compact enough to wind in with the rope. Comes right back out when you unspool. Move the guard along the length of the rope to guard against rock outcrops, etc. when winching.


We recommend one of our larger than stock winch hooks (Self-Locking, Mega, or Big Red) and our H1 heavy-duty aluminum Hawse fairlead specifically designed for synthetic winch rope use - See Below.

AmSteel Blue is the latest development of HMPE fiber in a twelve-strand braided rope utilizing Parallay design with proprietary blue urethane coating. Synthetic winch rope was introduced to the off-road vehicle markets in the 1990ís. It has rapidly become a must-have accessory for hard-core rockcrawlers and off-road enthusiasts.

Note: As with cable, we recommend keeping a minimum of 8 wraps of synthetic line on the winch drum at all times.




(click image for large view)



Heavy-duty rope thimble.

Note: Our ropes are professionally spliced and crimped.



Extra-large terminal end, with rope taped prior to being crimped into the terminal.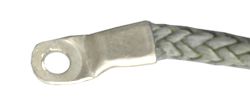 (click image for large view)



Note: We strongly recommend upgrading to a billet aluminum Hawse fairlead to prevent damage from a scuffed roller fairlead. See fairleads below.


(click image for large view)



7/16" Diameter
23,900 lb strength


Note: Compare to 7/16" wire cable with 17,600 lb strength.




1/2" Diameter
34,000 lb strength


Note: Compare to 1/2" wire cable with 26,600 lb strength.




U.S. SHIPMENTS (CONTINENTAL U.S. ONLY)



.