.


(click image for large view)



Amsteel Blue ATV Winch Rope



(click image for large view)


U.S. Made Amsteel Blue synthetic fiber rope has a higher breaking strength than that of steel cable of the same diameter, but weighs less than 1/6. It won't get all wound-up like cable, and can't develop sharp frays. It doesn't conduct electricity or heat, so it won't freeze your hands in winter. It won't rust, doesn't kink, doesn't recoil, doesn't stretch, or doesn't store energy. Need we say more!

Colors: Original Blue, OD Green, and Gunmetal Grey.
UV protection coated.
Lock-stitched splicing.
One 5' abrasion guard included. Guard is flexible and compact enough to wind in with the rope. Comes right back out when you unspool.
We recommend our larger than stock Mega Hook, with safety latch, and our aluminum Hawse fairlead, specifically designed for synthetic winch rope use.(See Below)

AmSteel Blue is the latest development of HMPE fiber in a twelve-strand braided rope utilizing Parallay design with proprietary blue urethane coating.

Note: As with cable, we recommend keeping a minimum of 8 wraps of synthetic line on the winch drum at all times.

We also recommend avoiding overuse of winch brake (powered spooling out), which can generate 'excessive' heat through brake friction.

We strongly recommend upgrading to a billet aluminum Hawse fairlead to prevent damage from a scuffed roller fairlead. See fairlead below.




(click image for large view)

Heavy-duty rope thimble.
Note: Our ropes are professionally spliced and crimped.
Extra-large terminal end, with rope taped prior to being crimped into the terminal.

(click image for large view)



3/16" x 50'
5,400 lb strength




1/4" x 50'
9,200 lb strength


Note: Compare to 3/16" wire cable with 4,200 lb strength, and 1/4" wire cable at 7,000 lb strength.



U.S. SHIPMENTS (lower 48)





.
---
---
ATV Snow Plow Rope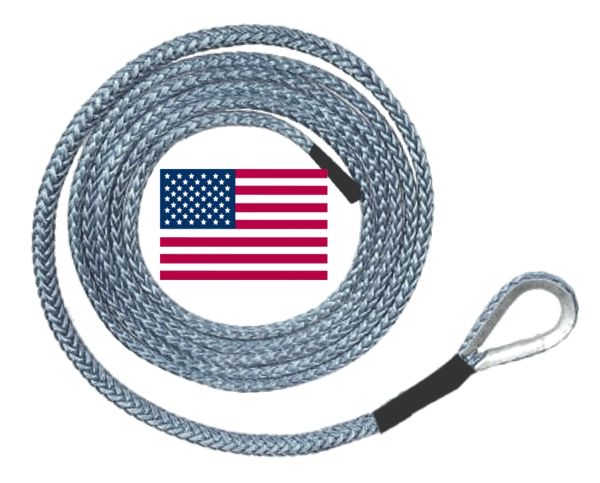 Temporarily replace your winch rope or cable for snow plow season, saves wear and tear on your winch line.

ATV ALUMINUM HAWSE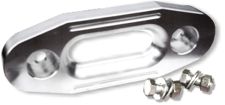 CLICK HERE.

STILL RUNNING CABLE?


CALL US FOR ATV CABLE.
---
---
5/16" and 3/8"
4X4 Winch Rope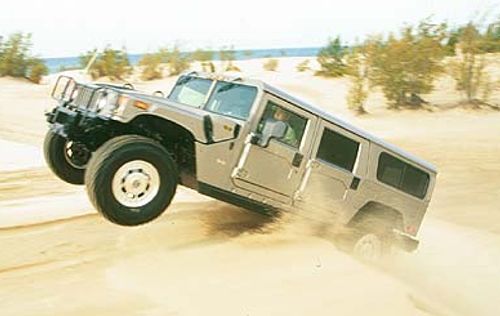 Hummer/SuperDuty
7/16" Winch Rope

GOT THE WARN 4.0ci?
CLICK HERE FOR SHORT DRUM FAIRLEAD.
Our SD aluminum Hawse fairlead is designed specifically for short-drum winches running synthetic winch rope, such as the Warn M6000 SDP or Warn 4.0ci.

---
---
.

ATV Synthetic Winch Rope Extension



(click image for large view)


Also made from Amsteel Blue synthetic fiber rope, our ATV extension lines have both ends looped with a thimble. Stores easily in your kit box until needed. This is a wonderful security blanket for anyone venturing offroad anywhere.
Heavy-duty rope thimbles.

Don't get stuck too far from a good anchor point! Our winch rope extension adds forty feet to your winch line, and brings you nearer to that well-placed tree.

Weighs less than 1/4 of steel cable.
Won't unravel in storage.
Can't develop sharp frays.
Doesn't recoil.
Won't rust.
Doesn't kink
Doesn't stretch.
Doesn't store energy.
Doesn't stretch.

Note: Our ropes are professionally spliced.



3/16" Diameter
5,400 lb strength




1/4" Diameter
9,200 lb strength




U.S. SHIPMENTS (lower 48)





.
---
---
.

ATV Winch Rope Extension & Kit Bag






Price Saving: The Recovery kit bag has a retail value of $20. Get it here with your winch rope extension for $15.

Don't just throw that winch rope extension into the back! Store it carefully, and it will be there for you when you need it. Protect your Amsteel Blue ATV synthetic fiber winch rope extension by storing it in our handy kit bag.

Wide-mouth Gear Bag.
heavy-duty nylon zipper, outer pockets, and hard fiber floor.
Holds your ATV recovery straps too.



U.S. SHIPMENTS (lower 48)





.
---
---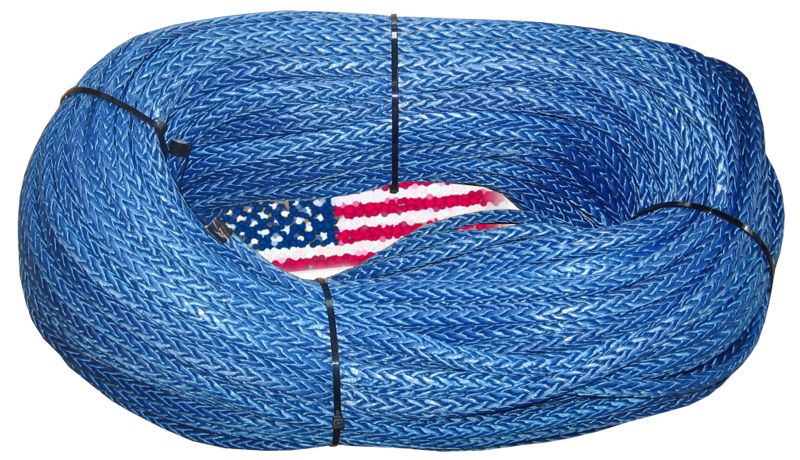 Synthetic rope by-the-foot
Need a custom length winch rope, or synthetic rope by-the-foot to build your own winchrope?

Or just not sure of the correct winch rope for your application...pick up the phone, or email us!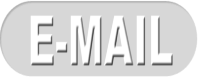 ---
---



.


D-Ring Shackles


Our 1/2" screw pin anchor shackles are tailored to meet high performance ATV requirements. U.S. and import available.
.



ATV Recovery Straps


High strength 1" x 10' nylon webbing available in single and double ply. More reserve strength to handle any ATV recovery situation.
.




2" Receiver Bracket


Our heat treated T6061 billet aluminum bracket includes a 5/8" D-ring for ATVs, and will fit any 2" receiver.
.

---

.


Self-Locking Hook


The self-locking winch hook is the ultimate solution in winching techniques. Available in ATV sizes.
.



Mega Winch Hook


Our mega winch hook with safety latch is a proven winch accessory. Bigger is really better. Don't wait to upgrade!
.


"Big Red" Winch Hook


Eye Sling Hook with heavy-duty safety latch. Hammerlock included. Proof tested and certified.
.

.
---
---
| | | |
| --- | --- | --- |
| . | Disclaimer. Please read: The effectiveness of this equipment is directly related to the manner in which it is installed, used (for off-road use only), and/or maintained. Proper installation, use and maintenance is solely the responsibility of the installer/user, and will not be assumed by Billet4X4.com. | . |